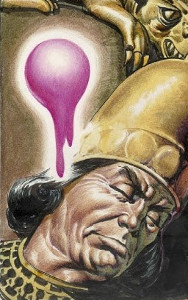 Episode 11 of The Trigan Empire
The Three Aliens
aka The Luminous Spheres
The Alien Invasion (The Collection)
De lichtende bollen (Dutch title)
The Luminous Orbs (Dutch title, translated)
A Tale of Invasion (Hawk reprint)
Written by Mike Butterworth
Illustrated by Don Lawrence
The Three Aliens was originally published in 7 installments in issues 291 (12 August 1967) to 297 (23 September 1967) of Look and Learn magazine.
It was reprinted as A Tale of Invasion in Tales from the Trigan Empire (Hawk) in 1989.
It is reprinted in the Don Lawrence Collection Volume 3, The Reign of Thara.
---
Installments
291 292 293 294 295 296 297
---
Links
292
https://www.catawiki.com/nl/l/14244393
https://www.2dgalleries.com/art/the-trigan-empire-the-alien-invasion-72625
293
https://stringfixer.com/files/973401743.jpg
294
https://www.catawiki.com/nl/l/3336627
https://www.2dgalleries.com/art/the-trigan-empire-the-alien-invasion-page-19-72627
295
https://www.2dgalleries.com/art/the-trigan-empire-the-alien-invasion-page-22-72902
297
https://www.catawiki.com/nl/l/3336649
https://www.2dgalleries.com/art/the-trigan-empire-the-alien-invasion-page-25-72633
https://www.2dgalleries.com/art/the-trigan-empire-the-alien-invasion-page-26-72634
Plot summary (Dutch)
---
Downloads
MediaFire via British Comics Compilations