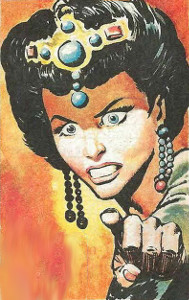 Episode 12 of The Trigan Empire
The Reign of Thara
aka Battle for Trigan City
A Tale of Treason (Hawk reprint)
De slag om Trigopolis (Dutch title)
The Battle of Trigopolis (Dutch title, translated)
Written by Mike Butterworth
Illustrated by Don Lawrence
The Reign of Thara was originally published in 19 installments in issues 298 (30 September 1967) to 316 (3 February 1968) of Look and Learn magazine.
It was reprinted in 5 installments in Vulcan (1975).
It was reprinted in The Trigan Empire (Hamlyn/Chartwell) in 1978.
It was reprinted as A Tale of Treason in Tales from the Trigan Empire (Hawk) in 1989.
It is reprinted in the Don Lawrence Collection Volume 3, The Reign of Thara.
---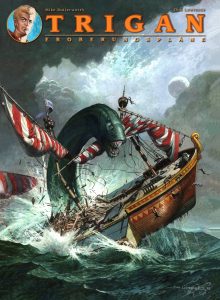 Installments
298 299 300 301 302 303 304 305 306 307 308 309 310 311 312 313 314 315 316
---
Plot summary (Dutch)
304
https://www.catawiki.com/en/l/60891379-lawrence-don-originele-pagina-trigie-jaren-70
309
https://www.catawiki.com/en/l/9889187-lawrence-don-original-page-the-trigan-empire-the-reighn-of-thara-1967
---
Downloads