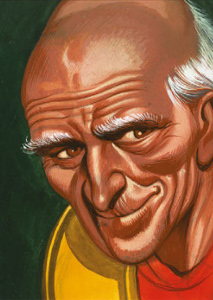 Bonus episode of The Trigan Empire
The Brief Reign of Sennos the First
aka De tirannie van oom Sennos (Dutch title)
The Tyranny of Uncle Sennos (Dutch title, translated)
Written by author(s) unknown
Illustrated by Ron Embleton
The Brief Reign of Sennos the First was originally published in the 1968 Ranger Book.
It was reprinted in 4 instalments in issues 678 (11 January 1975) to 681 (1 February 1975) of Look and Learn magazine.
It is reprinted in Volume 2 of The Rise and Fall of the Trigan Empire (Rebellion).
---
Links
Plot summary (Dutch)
---
Downloads
MediaFire via British Comics Compilations