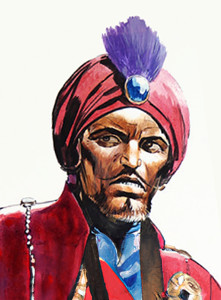 Episode 86 of The Trigan Empire
Mercy Mission
aka The Fate of Prince Rabul
De zoon van Salo (Dutch title)
The son of Salul (Dutch title, translated)
Written by Ken Roscoe
Illustrated by Gerry Wood
Mercy Mission was originally published in 10 instalments in issues 1040 (13 February 1982) to 1049 (17 April 1982) of Look and Learn magazine.
To date it has not been reprinted in English.
---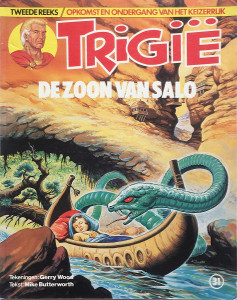 Plot summary
Desperation reigns in King Salul's desert kingdom. His son Rabul is seriously ill and the child's nurse Aleka doesn't know what to do about it. Karima, Salul's wife can no longer have children and if Rabul dies the Salul dynasty would be ended. They decide to send Rabul to Trigan to be treated by Salvia. They hope that she can save Rabul.
Salul orders his senior aide Balkan to take Rabul to Trigan along with Aleka. They have to travel with their caravan through the dangerous Seres Desert and end up in a sandstorm. Their water is running out and Aleka desperately needs it to cool Rabul's fever. They go into the mountains to find water.
In the mountains, a group of Trigans are attacked by the Gorths and suffer heavy casualties. When the group returns to Trigan City, Trigo decides to send two companies of soldiers to deal with the Gorths.
Meanwhile in the mountains, Balkan's caravan finds water, but is attacked by Nilds, a people who also terrorize the mountains. Aleka is hit by a spear and fearing that Rabul will be killed, she lets him float down the river in his conveniently boat-shaped cradle. But the desert warriors are better fighters than the Nilds and drive them away. Aleka tells Balkan what she did and they search down the river for Rabul but they can't find him.
Downstream, Rabul's cradle comes to rest, and the infant prince is menaced by a venomous nobra! But next moment the nobra is killed by an arrow fired by a Gorth tribesman. Thinking the child is dead from the bite of the nobra, the Gorths leave the baby and cradle but take his bracelet and necklace with locket. Not much later Janno and his soldiers defeat the Gorths and Janno finds the bracelet and necklace. Balkan informs Salul about the events and he goes back with a thousand soldiers to find Rabul. They encounter Janno and his troop and Halsar, one of Balkan's men, sees Rabul's bracelet and necklace. The desert warriors now think that Janno killed Rabul and declare war on the Trigan Empire.
Janno tells Trigo what happened and the Trigans prepare for battle. Salul seeks help from Cato who promises to fight with them. Rabul survives because it starts to rain and the rain cools him down. He is found by a shepherd who sets off to Trigan City for help. On the way he meets Janno, under fire from Caton weaponry in the hands of Salul's men. A message is sent to the Emperor. Salvia is sent to save Rabul. Trigo and Peric negotiate with Salul. Salvia heals Rabul and Salul makes peace.
---
Rating





---
Links
1040 (13 February 1982)
https://bookpalace.com/acatalog/info_WoodTE13-2-82a.html
1041 (20 February 1982)
https://bookpalace.com/acatalog/info_WoodTE20-2-82a.html
1042 (27 February 1982)
https://bookpalace.com/acatalog/info_WoodTE27-2-82.html
1043 (6 March 1982)
https://bookpalace.com/acatalog/info_WoodTE6-3-82a.html
1044 (13 March 1982)
https://bookpalace.com/acatalog/info_WoodTE13-3-82a.html

1046 (27 March 1982)
https://bookpalace.com/acatalog/info_WoodTE27-3-82a.html
1047 (3 April 1982)
https://bookpalace.com/acatalog/info_WoodTE3-4-82a.html
1048 (10 April 1982)
https://bookpalace.com/acatalog/info_WoodTE10-4-82a.html

Plot summary (Dutch)
---
Downloads
MediaFire via British Comics Compilations