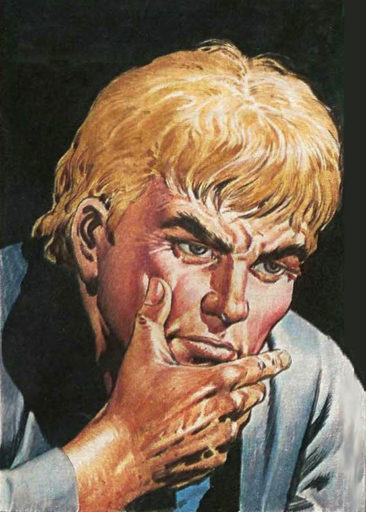 Episode 22 of The Trigan Empire
The Puppet Emperor
aka The Brief Reign of Trigo the Second
De plaatsvervanger (Dutch title)
The Substitute (Dutch title, translated)
De valse keizer (Dutch title)
The False Emperor (Dutch title, translated)
Written by Mike Butterworth
Illustrated by Don Lawrence
The Puppet Emperor was originally published in 14 instalments in issues 425 (7 March 1970) to 438 (6 June 1970) of Look and Learn magazine.
It was reprinted in 1976 in 1 issue (3 April 1976) of Vulcan comic, and thereafter in highly abbreviated form in 3 issues (10 April 1976—24 April 1976) of Valiant comic.
It is reprinted in Volume 6 of The Trigan Empire—The Collection (the Don Lawrence Collection).
It is reprinted in Volume 2 of The Rise and Fall of the Trigan Empire (Rebellion).
---
Instalments
425 426 427 428 429 430 431 432 433 434 435 436 437 438
---
Links
https://www.catawiki.com/en/l/34749379-don-lawrence-orginele-cover-trigie-12-de-valse-keizer-1970
426
https://www.lastdodo.nl/nl/items/2453501-trigie-de-valse-keizer-pl
429
https://www.lastdodo.nl/nl/items/2596967-trigie-de-valse-keizer-pl

431
https://www.catawiki.com/el/l/3338185-don-lawrence-trigan-empire-original-page-de-valse-keizer-the-puppet-emperor-1970
432
https://www.catawiki.com/nl/l/29881306-don-lawrence-originele-pagina-p-16-trigie-de-valse-keizer-1971
433
https://www.catawiki.com/en/l/54983593-lawrence-don-originele-pagina-in-kleur-the-trigan-empire-the-puppet-emperor-1970
437
https://www.catawiki.com/en/l/56061421-lawrence-don-originele-pagina-in-kleur-the-trigan-empire-the-puppet-emperor-1970
438

https://www.catawiki.com/nl/l/3338227
https://ottosump.tumblr.com/post/664552036684169216/the-puppet-emperor-when-i-was-younger-i-had-some
https://ottosump.tumblr.com/post/664739873274707968/the-puppet-emperor-part-2-trigo-and-brag-are
https://ottosump.tumblr.com/post/665187169384726528/the-puppet-emperor-part-3-vulcan-comic-had
Plot summary (Dutch)
---
Downloads
MediaFire via British Comics Compilations