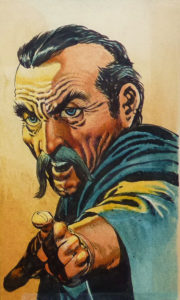 Episode 14 of The Trigan Empire
The Three Princes
aka De zonen van de keizer (Dutch title)
The Emperor's Sons (Dutch title, translated)
A Tale of Sons and Heirs (Hawk reprint)
A Tale of a Perilous Journey (Hawk reprint)
A Tale of an Infernal Machine (Hawk reprint)
Written by Mike Butterworth
Illustrated by Don Lawrence
The Three Princes was originally published in 31 installments in issues 332 (25 May 1968) to 362 (21 December 1968) of Look and Learn magazine.
It was reprinted as A Tale of Sons & Heirs, A Tale of a Perilous Journey, A Tale of an Infernal Machine in Tales from the Trigan Empire (Hawk) in 1989.
It is reprinted in the Don Lawrence Collection Volume 4, The Three Princes.
---
Installments
332 333 334 335 336 337 338 339 340 341 342 343 344 345 346 347 348 349 350 351 352 353 354 355 356 357 358 359 360 361 362
---
Links
336
https://www.catawiki.com/en/l/3336673-don-lawrence-trigan-empire-original-page-de-zonen-van-de-keizer-the-three-princes-1968
338
https://www.2dgalleries.com/art/trigan-les-trois-princes-81479
339
https://www.catawiki.com/en/l/62321467
345
https://www.catawiki.com/en/l/57223877-lawrence-don-originele-pagina-in-kleur-the-trigan-empire-the-three-princes-1968
348
https://www.catawiki.com/en/l/3336751-don-lawrence-trigan-empire-original-page-de-zonen-van-de-keizer-the-three-princes-1968
353
https://www.catawiki.com/nl/l/1404095
https://www.catawiki.com/nl/l/2737561
355
https://www.catawiki.com/en/l/57893661-lawrence-don-originele-pagina-in-kleur-trigie-the-trigan-empire-the-three-princes-1968
359
https://www.catawiki.com/en/l/16526543-lawrence-don-original-page-trigie-the-trigan-empire-1968
Plot summary (Dutch)
---
Downloads