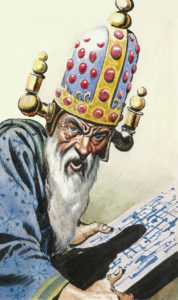 Episode 13 of The Trigan Empire
Voyage to the Moon Bolus
aka The Invasion of Bolus (The Collection)
De waanzinnige geleerde / Duel met de dood (Dutch title)
The Mad Scientist / Duel with Death (Dutch title, translated)
A Tale of Evil (Hawk reprint)
Written by Mike Butterworth
Illustrated by Don Lawrence
Voyage to the Moon Bolus was originally published in 15 installments in issues 317 (10 February 1968) to 331 (18 May 1968) of Look and Learn magazine.
It was reprinted in The Trigan Empire (Hamlyn/Chartwell) in 1978.
It was reprinted as A Tale of Evil in Tales from the Trigan Empire (Hawk) in 1989.
It is reprinted in the Don Lawrence Collection Volume 3, The Reign of Thara.
---
Installments
317 318 319 320 321 322 323 324 325 326 327 328 329 330 331
---
Links
320
http://www.compalcomics.com/marketreport/winter2012.htm
325
https://www.catawiki.com/nl/l/16235939
Plot summary (Dutch)
https://archive.org/details/TriganEmpire13VoyageToTheMoonBolus/
---
Downloads