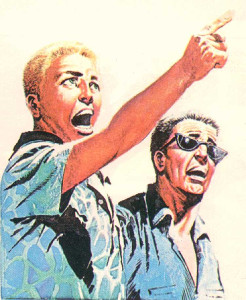 Episode 1 of The Trigan Empire
Victory for the Trigans
aka Strijd om Trigië (Dutch title)
Battle for Trigan (Dutch title, translated)
Victory for the Trigans was originally published in 20 installments in issues 1 (18 September 1965) to 20 (29 January 1966) of Ranger magazine.
It was reprinted in The Look and Learn Book of the Trigan Empire (IPC/Fleetway) in 1973.
It was reprinted in The Trigan Empire (Hamlyn/Chartwell) in 1978.
It is reprinted in the Don Lawrence Collection Volume 1, The Invaders from Gallas.
---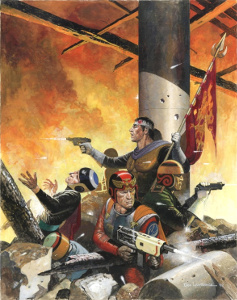 Installments
1 2 3 4 5 6 7 8 9 10 11 12 13 14 15 16 17 18 19 20
---
Links
https://www.slideshare.net/luisnarbona/01-victory-for-the-trigans-10048180
https://www.scribd.com/document/323070194/The-Rise-and-Fall-of-the-Trigan-Empire
Plot summary (Dutch)
Plot summary at Nitcentral's Bulletin Brash Reflections on The Trigan Empire
https://mobile.twitter.com/Scott_CitC/status/1477727501736681479