Episode 3 of The Trigan Empire
Elekton In Danger
aka The Falling Moon (The Collection)
Laatste uur voor Elekton (Dutch title)
Last Hour for Elekton (Dutch title, translated)
Elekton In Danger was originally published in 14 installments in issues 24 (26 February 1966) to 37 (28 May 1966) of Ranger magazine.
It was reprinted in The Look and Learn Book of the Trigan Empire (IPC/Fleetway) in 1973.
It was reprinted in The Trigan Empire (Hamlyn/Chartwell) in 1978.
It is reprinted in the Don Lawrence Collection Volume 1, The Invaders from Gallas.
---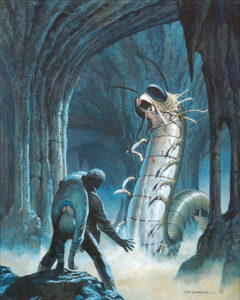 Installments
24 25 26 27 28 29 30 31 32 33 34 35 36 37
---
Links
26
https://www.catawiki.com/sv/l/5505203-lawrence-don-original-drawing-the-trigan-empire-original-frame-for-the-story-elekton-in-danger-1966
26/34
https://www.catawiki.com/fr/l/3155101-trigie-3-orginele-ingekleurde-plaatjes-het-laatste-uur-voor-elekton
29/30
https://www.catawiki.com/en/l/3336237-don-lawrence-trigan-empire-original-page-laatste-uur-voor-elekton-elekton-in-danger-1966
31
https://www.catawiki.com/en/l/57886995-lawrence-don-originele-pagina-in-kleur-the-trigan-empire-laatste-uur-voor-elekton-1966
33/34
https://www.catawiki.com/en/l/55573229-lawrence-don-originele-pagina-in-kleur-trigie-laatste-uur-voor-elekton-1966
34
https://www.2dgalleries.com/art/the-trigan-empire-the-falling-moon-page-91-90168
37
https://www.catawiki.com/en/l/3336459-don-lawrence-trigan-empire-original-page-het-rijk-der-laatste-dagen-invaders-from-gallas-1966
https://www.scribd.com/document/469718999/Extra-Color-007-Mike-Butterworth-Don-Lawrence-El-Imperio-de-Trigan-3-Ultimatum-a-Elekton
Plot summary (Dutch)